Photoshop For iPhone, iPod, and iPad
Carousel, Cloud-Based Photo Storage From Adobe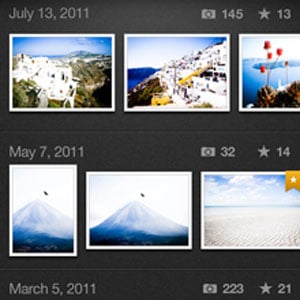 For the photographer that's a part-time gadget fiend, Adobe has launched a cloud-based service called Carousel, which lets users view, edit, and store photos across various devices. The $60-a-year subscription service will be available for Mac and iOS devices later this month.
Any photos imported into Carousel's photo library or added directly through an iPad, iPhone, or iPod Touch are automatically saved to the cloud-server ready for quick access on any other supported device. Same goes for editing; after using the embedded Photoshop Lightroom software to edit pictures the new images are saved to the Carousel account — no syncing required. The unusual part of Carousel is the ability to have friends contribute to and view a photo library free of charge as long as they're using a compatible device.
Windows and Android-compatible version of Carousel are planned for the first half of 2012. Naturally, the photos can be shared directly to Facebook, Twitter, Tumblr, and email.