Pictures of the Sony Vaio W Billabong Edition Notebook
Sony Vaio W Billabong Edition Hands-On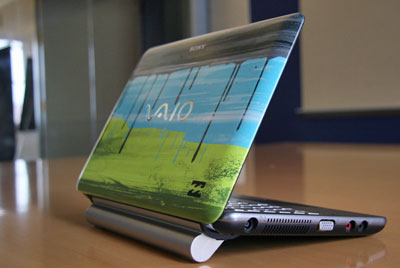 Previously, this ultra-cool beachwear-inspired laptop was only available in Australia. But thankfully, Sony decided to bring the Sony Vaio W Billabong Edition notebook($500) Stateside to the pleasure of beach bums everywhere.
The Billabong edition Vaio was designed after the companies' latest board-short styles, and comes adorned in a fetching combination of lime green, blue, and black, that is somehow reminiscent of the shore. The laptop looks as good in person as it does in the pictures — its matte top feels like the design was painted on each individual cover, giving it an extra special touch, and the 10.1-inch LCD backlit screen makes things look good from the inside as well.
Want to hear more specs, see more pics, and hear my take on this summery notebook? Then just keep reading.
The Vaio W Billabong Edition comes stocked with 1GB of RAM, a single core 1.83GHz processor, Windows 7, a 10.1-inch LED widescreen display, and a 256GB hard drive. Additionally, the lithium ion battery will last you up to eight hours, you can easily transfer pics with the SD card reader slot, and you can hook up to your WiFi and Bluetooth-enabled accessories.
At $500, the Vaio W Billabong notebook is an easy buy for those who have the extra cash. It's totally portable, and can fit in almost any bag. Of course, you're mostly paying for looks rather than power — you can buy other similarly-spec'd netbooks for much less — but you know, I've never been one to remove a hot netbook from my wish list just because I can't afford it. A girl can dream, right?