A Pimped-Out Ski Helmet With Headphones and Bluetooth
Listen to Music and Make Phone Calls While You Ski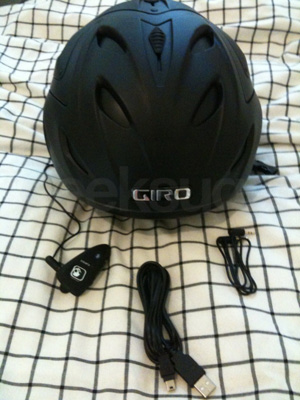 I'm not a skier, but most of my friends are, and I'm consistently jealous of all of the awesome geeky ski and snowboard equipment they have. I got a chance to try out the Radiance jacket, which keeps you warm and charges your iPod, but when my friend sent me a snapshot of his latest purchase, I had a total geek-out at my desk. It's a ski helmet outfitted with Skullcandy headphones and Bluetooth.
Now he'll be able to listen to music and answer the phone while hitting the slopes. To be honest, I think this is only a good idea if you're a fairly capable and focused skier (after all, some of us can't even walk and talk on the phone without an accident), but it's a pretty cool way to stay connected and entertained.
If, like me, you're more of a lodge-dweller than a ski bunny, check out these adorable knit headphone earmuffs.
Did you just snag an awesome new gadget? Create a PopSugar Account or log in to your account. Then join the My Favorite Gadgets group to post info about your must-have gadget. Here's a detailed guide to posting posts and photos to groups if you are new to the PopSugar Community.