Pinterest Analytics
Analyze This! Pinterest Welcomes Pin Analytics
If you have a blog, an online portfolio, or a website dedicated to your love of cats, Pinterest will now tell you what people are pinning from your site, with new analytics tools that give webmasters more information about how people are interacting with their content.
But there's one caveat: your Pinterest account must be verified (you can tell if there is a checkmark by your name). For verification, you must have your own domain before going to Settings and clicking the Verify Website button.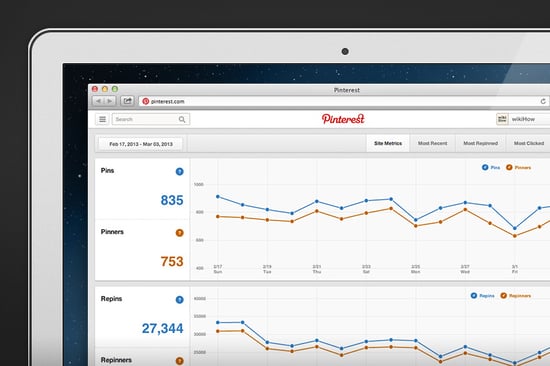 So, what will Pinterest Web Analytics offer you? You'll be able to find out what your most popular, repinned, clicked, and recent pins are and see how those pins grow in reach over time.
To access Pinterest Web Analytics, get the new look, verify your website, then select Analytics in the top right. Now, your pins are under your watchful command.
The new feature is part of a suite of Pinterest tools for businesses, including business accounts, Pin It social buttons, and embeddable board widgets. The pinboard-style content sharing service is positioning itself not only as a destination for consumers but also as a way for brands to connect with their customers — and reach for new ones.
It's only a matter of time before three-year-old Pinterest feels real pressure to start generating revenue, and premium business tools are an interesting alternative to advertisements on the site.