Pinterest Place Pins
Need Trip-spiration? Follow Pinterest's New "Place Pins"
When wanderlust strikes, the only two concerns that need to be addressed are: where and when to go. Pinterest can help answer those questions with a new feature called Place Pins, which show a map alongside a location-specific, travel-themed pinboard. Each pin will also include information such as the landmark's address, phone number, and more.
Incite travel envy in all of your followers by creating this new type of board. All you need to do is click the "+" button in the upper right corner, select "Create Board," and switch "Add a Map" to "Yes." If you're just looking for some pinspiration right off the bat, look no further than these four good-looking "Place Pin" boards full of travel eye candy.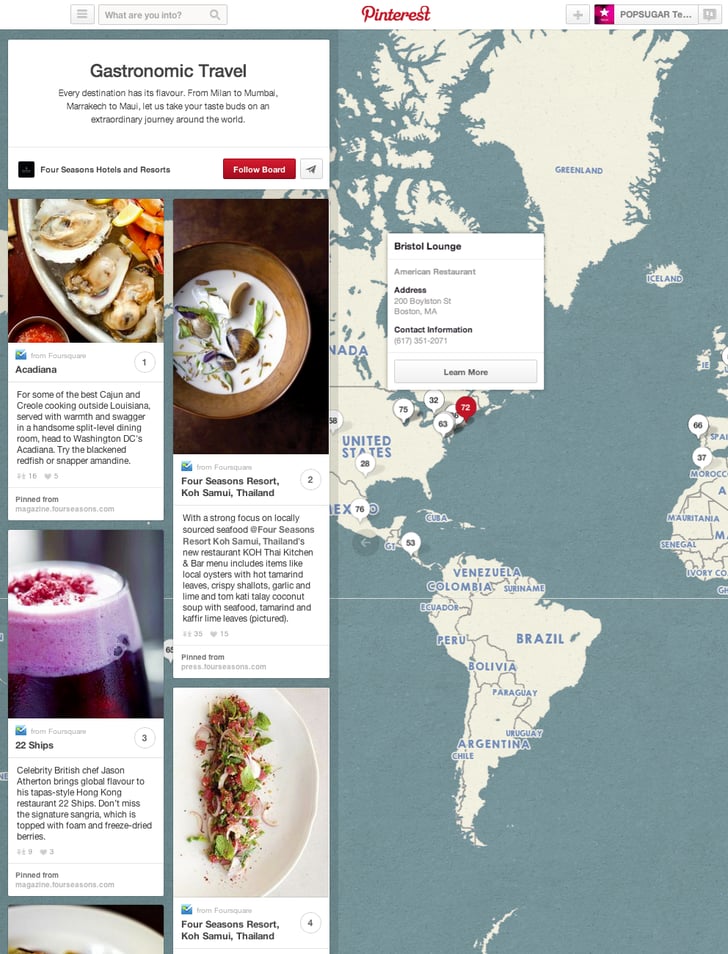 Gastronomic Travel
Gastronomic Travel by Four Seasons Hotels and Resorts takes you on a culinary tour around the world. Feast your eyes on things like coconut soup with seafood, tamarind and kaffir lime leaves from Thailand, and Cajun cooking from Louisiana.
The Great Ski and Snowboard Resorts of the World
From Squaw Valley USA in California to Chamonix Mont-Blanc in France, Arcade Belt Co. has all of the best peaks in the world covered in this guide to the great snow resorts of the world
Goings on About Town: Food & Drink
There's so much to do, but so little time in the city that never sleeps! The New Yorker's must-see Food & Drink pinboard includes fancy downtown locales like Jean Georges and Brooklyn jaunts like Atrium.
Family Travel
NatGeo Travel has assembled the best kid-friendly destinations. From tips and tricks to glamping with the family, this pinboard has anything and everything you'd need to no about taking quality family time on the road.