Pinterest Rich Pins
Pinterest Now Offers More Than a Pretty Picture
Pinterest, everyone's favorite online pinboard, is home to some of the most exquisite visual treats on the web — and the photo-sharing site recently introduced a new feature, rich pins, that'll offer pinners much more than just a pretty picture.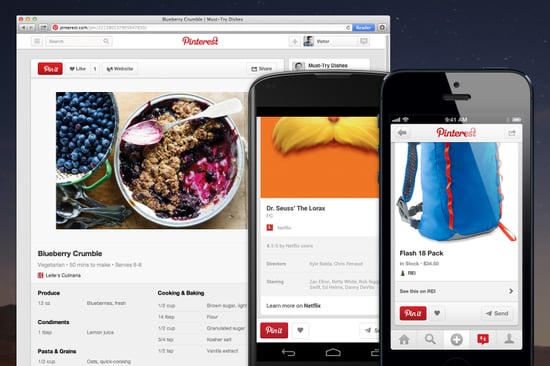 Certain types of pins from selected sites will now show more information. Clicking on a recipe pin will show you the thumbnail, ingredients, cook time, and serving size. A movie pin will show the film's director, actors, Rotten Tomatoes score, release year, and rating. Products, like clothes and accessories, show the most recent price, shop, and whether or not that model is in stock. If you're a blogger or content creator, you can add meta tags to your website so that images pinned from your site will include more details.
Do you, as a pinner, find the rich pins helpful? Click through some examples of recipes, movies, and products, then tell us what you think.
Rich pins are just one of the site's many new additions in recent months. Pinterest redesigned their stream and pin pages not too long ago.
Get up close with Pinterest's new rich pins after the break.
Recipe Pins
Movie Pins
Product Pins