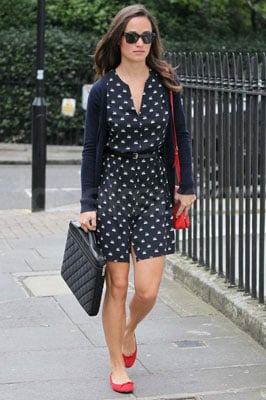 Pippa Middleton may be the sister of a princess, but she's still a working gal in her everyday life like the rest of us. Juggling two jobs (one as the editor of an online magazine, the other at an environmental firm) requires Pippa to stay connected via her laptop, so it's only natural that the girl would want to carry her machine in style.
Pippa can be seen toting her laptop in the Knomo Slim bag ($80), which comes with a stylish and chic quilted exterior, retractable handle, and a removable nylon strap for crossbody wear, perfect for those days when you need both hands for carrying other commuting essentials (coffee, anyone?).
The bag comes in two sizes — 13 and 15 inches — and one conservative black hue.