Places to Work With WiFi
What Are Your Favorite WiFi Alternatives to Cafes?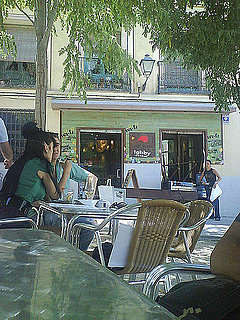 Tech-savvy San Francisco, home of Sugar HQ, is a city full of WiFi for the asking. So if I'm at home doing work and need a change of scenery, I have many options to choose from. Cafes are normally the go-to option, but sometimes it's nice to change it up. A couple of weekends ago, for example, I did some (no-brainer!) work while enjoying a mimosa at my local bar. It was nice to be able to enjoy the sunny patio instead of being holed up at home, and I liked that the vibe felt more relaxed than at my normal cafe, where no matter what day it is you're bound to be surrounded by clattering keyboards and concentrating faces. When you can't take another cappuccino, where do you go to use WiFi?
Source: Flickr User juanpol