The Plastiki Eco Ship Made From 12,000 Plastic Bottles Will Sail From SF to Sydney
Boat Made of 12,000 Plastic Bottles Is Pretty High-Tech
This boat may look unassuming as it sits docked in Sausalito, CA, but actually, it's an engineering marvel. What's so great about it? Well, first off, it floats thanks to the 12,000 plastic bottles collected from landfills and is completely self-sustainable! Called the Plastiki, this ship not only sports solar panels, wind turbines, and its own organic garden, but inside rests a nest of technology and computers to guide the ship to its destination. The crew of the Plastiki will be setting sail from San Francisco Bay in the next few weeks and will make their way across the Pacific Ocean to Sydney, Australia, in an effort to draw attention to a growing problem: plastic waste.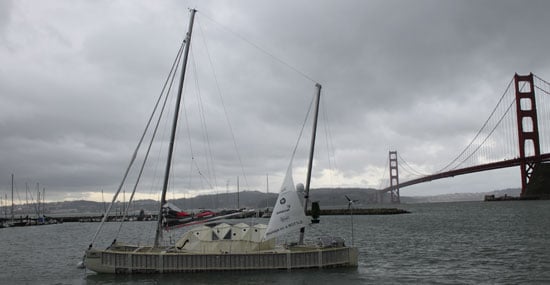 Floating out in the the Pacific (somewhere between San Francisco and Hawaii) right now is a heap of garbage known as The Great Pacific Garbage Patch. Some say this patch is the size of Texas, but no matter what the size, the crew of the Plastiki wants you to know it's there and it's only getting bigger.
The crew is hoping that this journey will raise awareness and help to reduce plastic waste. Throughout the trip, the crew will be tweeting and blogging their way over 11 thousand nautical miles thanks in part to their handy HP computers.To see more photos of the Plastiki, and to get more details on the tech aboard, just click through the gallery when you
.