Play Interactive Nog Pong
Feeling Festive? How About a Little Nog Pong?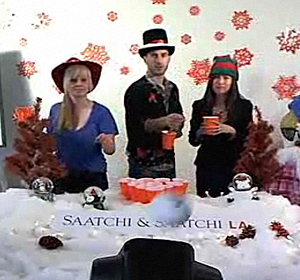 After the resounding success of the Old Spice guy earlier this year, ad agencies are stepping up their game by creating interactive fun. Los Angeles agency Saatchi has succeeded with a major win — from 11 a.m. until 7 p.m. PST today, you can sign up to play a game of interactive Nog Pong with its staff. What is Nog Pong? It's just like beer pong!
To play, visit nogpong.com and sign up. Then, check the queue for your turn. You must interact with the game within 15 seconds of gaining control. Then, use the NogBot to fire ping pong balls toward the staff's cups of eggnog. If you sink a ball in the cup, an employee must drink it, no matter how many winning shots you take. And, bonus: every ball you sink equals a small charitable donation to one of three deserving charities.