Happy PlayStation 4 Launch Day! Sony's new console ($400) arrives today, Nov. 15, in the US and Canada, and Nov. 29 in Europe and Latin America. You may have caught Jimmy Fallon and Ice T showing off the PS4's amazing new controller capabilities but, like most gamers on the fence, are wondering: what else can the PS4 offer me?
When the PlayStation 4 was introduced in February, all we saw of Sony's latest console was a new controller, the Dual Shock 4, and a short preview of new games. The E3 conference this Summer finally revealed the socially focused platform's hardware and price, leaving many Xbox fans One-dering whether or not Microsoft's new all-in-one entertainment console is worth the big ticket price.
For those still deciding which system to buy this holiday season, we've pitted the newest iterations of the two most popular consoles for hardcore gamers — the PlayStation 4 and the Xbox One — against each other in terms of price and specs.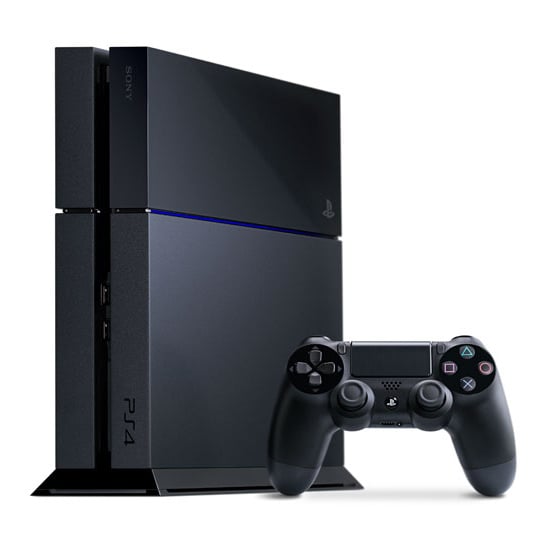 The slightly updated PlayStation 4 hardware revealed at E3 isn't anything special. At the keynote, Sony looked away from the design, and instead stressed what the console had to offer that the Xbox One was clearly lacking. The ability to freely play used games and not having to log in every 24 hours are gamer-friendly features that give the PS4 a major edge over the super strict Xbox One.
Both consoles are big black boxes with new controllers optimized for ergonomics and sharing gameplay video with peers. Both Microsoft and Sony provide paid subscriptions for online gaming: PlayStation Plus ($50/year). It all boils down to what you will choose to buy this Fall.
Xbox hasn't released their full specifications for the One yet, but we've broken down the technical details and pricing information we do have. Which console prevails? See a side-by-side comparison after the break.
| | Price | Hardware | Memory | Other |
| --- | --- | --- | --- | --- |
| PlayStation 4 | $400 | CPU: 8-core x86-64 APU; 1.84 TFLOPS graphics processor | 8GB GDDR5 | PS Vita or PlayStation iOS and Android app for second screen play; can play used titles freely |
| Xbox One | $500 | CPU: 8-Core x86 CPU, 500GB HDD | 8GB | Smartglass app works with most mobile devices; no backwards compatibility |
The PS4 beats the Xbox One on price, but keep in mind that the Xbox comes with a Kinect included and the PlayStation Camera is sold separately for $59 (even with the accessory, the value still goes to Sony). The hardware specs are nearly identical, which means that the main difference lies in second screen and gaming options, and digital rights management requirements.
In terms of second screen play, the PlayStation 4 can connect with the handheld current PS app hasn't been updated since 2012). The Xbox Smartglass app is compatible with Windows, Android, and iOS platforms.
While both have secured deals with a wide variety of entertainment apps, the Xbox One offers several more options, including the highly-coveted HBO Go.
The games developed with the PS4 in mind include Killzone Shadow Fall, inFamous Second Son, Call of Duty Ghosts, The Order: 1886 and Destiny (preview them all). Xbox, on the other hand, has reigns over its blockbuster franchise Halo, with a new version coming out just for the One, plus titles like Ryse: Son of Rome, Forza Motorsport 5, Dead Rising 3, and Project Spark, all of which were unveiled at E3.
So, what's your verdict? Are you more interested in the socially focused PlayStation 4 or the all-in-one entertainment system Xbox One?