PlayStation Move Review
PlayStation Move: Right on Target
I'll be honest — when I first heard about the PlayStation Move system earlier this year, I thought Sony was just trying to play catch up with Nintendo's Wii. Boy, was I wrong. Sure, the PlayStation Move is similar to the Wii in the fact that there are two handheld controllers, but the Move takes a giant leap forward with the addition of the PlayStation Eye and its precise motion capture abilities. I finally got my hands on a Move of my own and had a chance to really put the system through the paces. How does the PlayStation Move rate? Find out in my rundown of the system after the break.
Hardware
The Move consists of a handheld controller (you know, the one with the fancy glowing orb?), an optional navigational controller that really helps to up your game (pun intended), a charging station, and a PlayStation Eye camera that visually tracks your movements.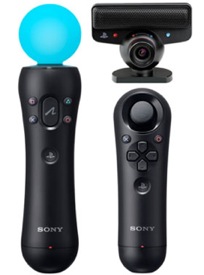 The controllers are small in size and are super comfy to hold in your hands. Each controller comes with an arm band which comes in handy in the off chance someone comes down with a case of butterfingers. Considering how much swinging and slicing you'll be doing in the Move-compatible games, you'll definitely want to keep that strap around your wrist, the controller in your hand, and out of your HDTV.
Motion capture accuracy is exceptional on the Move and keeps up nicely with more than one player as well (you can have up to four players total). Before each game, you'll be guided through a short and sweet calibration process which keeps things tight when you're playing alone or with a friend. But make sure you have plenty of room to play in your living room, as playing space is generous on the PlayStation Eye's wide-angle lens. Speaking of playing games . . .


Games
Sony sent me a number of games to test along with the Move system. Check out my mini reviews of each below!
Price
You can get a PlayStation Move Starter Bundle for $100 that includes one controller, the PlayStation Eye and Sports Champions. Additional controllers are $50 each, while the secondary (optional) navigational controller is $30.
Final Thoughts
The PlayStation Move isn't just trying to play catch up at all — it's fun for the family, for serious gamers, and for beginners, while offering a wide range of compatible games to get everyone involved.