Pluto Facts
This Day in 2006: Pluto Demoted to Dwarf Planet
On August 24, 2006, the International Astronomical Union declared that Pluto failed to meet the requirements of the term "planet" because it is only 0.07 times that of other masses, rocks, and moons in its orbit, therefore being instead, a dwarf planet.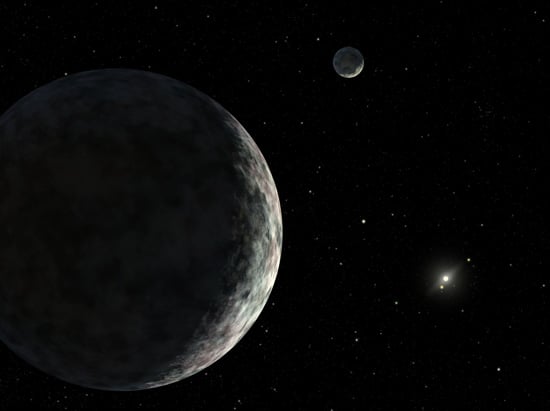 There is still much to learn about the dwarf planet, but NASA's New Horizon spacecraft is headed there to answer some of the questions we have. Launched in 2006, New Horizons will have traveled nearly 10 years and three billion miles when it passes by Pluto in 2015. But that's not to say we know nothing about Pluto. Check out these facts you may not have known about our solar systems' only dwarf planet.
Pluto is on an elliptical orbit that brings the planet inside Neptune's orbit every few hundred years.
Pluto has an atmosphere made up of nitrogen, methane, and carbon dioxide that freezes as it gets farther away from the sun, and evaporates, forming a gas, as it warms up.
Pluto's rotation around the sun takes 248 earth years. Counting back from now, Pluto started its current rotation around the sun in 1763.
You'd weigh a lot less on Pluto: if you weigh 100 pounds here on Earth, you'd weigh seven pounds on Pluto.
If Pluto were closer to the sun, it would be a comet. If it were to heat up, its ice layer would melt, it would lose mass, and produce a tail as it swept by the sun.