PointInside Maps Malls and Airports
Download of the Day: PointInside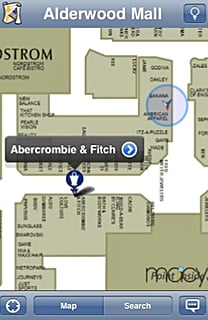 Malls, airports, and other massive indoor structures can be confusing, even when there's a giant map directing you once you're inside. An app called PointInside, available for iPhone or Android, can help you navigate over 70 airports and over 600 different shopping malls. Search for a specific location or just what's close by to find a map of your location.
The apps are free, and show you exactly where you are within the location, mapping out stores, bathrooms, restaurants, or anything else that might be nearby — no need to worry about tracking down a hard-to-find "You are here" map of the mall or airport.
Have you found a cool download-worthy treasure you'd like to share with the rest of us? Join the Download of the Day group, where you can submit your favorite downloads, apps, and widgets. Your suggestion could be featured on GeekSugar!