Portable Keyboard For Travel
Roll n' Go Keyboard: Totally Geeky or Geek Chic?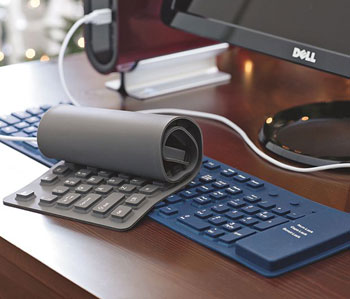 Working with an external mouse and keyboard may be more comfy than using my laptop's on-board keys and trackpad when logging in long hours of work, but when I'm on the go, there's no way I'm toting an extra keyboard along for the ride. Unless of course I use PB Teen's Roll n' Go flexible keyboard ($30), which would safely stow in my travel bag for later use. Made of waterproof silicone, this full-sized, ultra-portable keyboard will plug right into your USB port so you can work away in comfort. What do you think — totally geeky, or geek chic?