Portable Mobile Office
Geek Tip: The Portable Office
Maybe you're working from home for the holidays. Maybe your WiFi is out of commission. Maybe your live-in boyfriend/roommate/cat is driving you crazy and you need to get out of the house — ASAP. Whatever the case, sometimes you need a place to camp out and set up an office where there is none. Circumstances like these call for The Portable Office, a traveling bag of tricks designed to create a personal working oasis anytime, anywhere. Next time you need to work on the go, use these tips for a productive office space: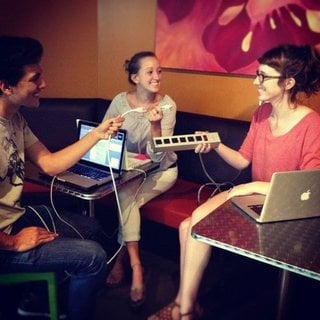 BYOP: Bring Your Own Power Strip
Think of a coffee shop power strip as a real-life social network: it's a small but powerful technology that connects unlikely people in unlikely situations. Encourage fellow coffee-shop patrons to share the wealth by bringing along your own travel-friendly, multi-outlet surge protector ($22). But first, ask the barista behind the counter if you can plug in; you don't want to blow a circuit and leave an army of caffeine addicts in your wake.
Keep valuables close
. . . And not just for security reasons. You're most likely working in a small space, so use it economically. Short USB cables ($25) are great when working with multiple devices like a camera or external hard drive. But when you do want to keep things secure when you need to run to the bathroom or grab your next cup, use the PNY Technologies portable computer locking system ($21) and a security clamp ($19).
. . . And your coffee cup closer
Tech etiquette dictates that you can't just sit and work in a café for free; pay rent on your real estate by buying coffee. That paper cup sitting next to your laptop is proof of purchase, so keep it close by. A polite geek rule of thumb is to purchase a new drink at least every two hours when on a shop's WiFi.
Play it safe in public
Don't assume that a public WiFi hotspot is secure. Only log in to encrypted websites; their web addresses will begin with "https" instead of "http." Most popular sites can be loaded into encryption using a browser plug-in called HTTPS Everywhere. If you're really worried, then invest in a personal hotspot like the Verizon MiFi.
Not sure where to go to set up shop? Hotspotr helps you locate WiFi cafés all over the country.
Photo: Nicole Nguyen