Poshmark App Sells Clothes on iPhone
Download of the Day: Poshmark
Shopping is quickly moving to the mobile world, with stores offering deals on the go and only accessible via mobile devices. Now, consumers can get in on the draw of selling their own goods to a mobile world with the new shopping app Poshmark.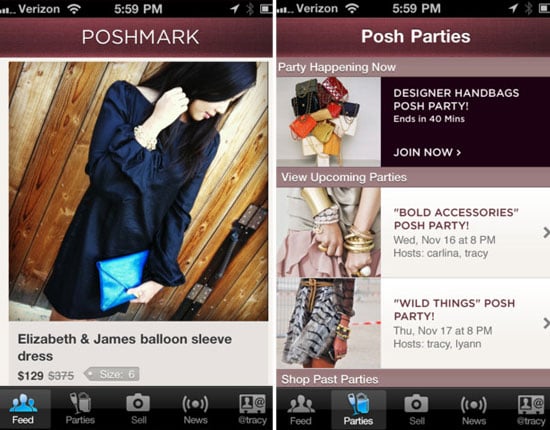 Forget the old days of dragging bags of unused clothes to thrift stores hoping your trash becomes someone else's treasure (and let's face it, those buyers are so picky); Poshmark turns the hassle of fashion resale into an easy digital experience all within the comfortable confines of an iPhone. Created by the same brains behind social fashion website Kaboodle, Poshmark came to life "so that anyone can easily convert their closet into a stylish boutique with their phones," according to founder and CEO Manish Chandra.
Based on virtual events called Posh Parties, app users can enter a specific party — designer accessories, for example — browse goods, interact with other guests, and list items from their own closets for sale. The experience gets even more social by sharing listings on Facebook and inviting friends to future Posh Parties.
Of course, the employees of the Poshmark marketplace are always on hand ensuring that transactions go smoothly, and that all home sellers and customers keep coming back to the app to score fellow fashionistas' finds.