Preemptive Check-In Apps
Would You Use an App to Recruit Friends to Join You Somewhere?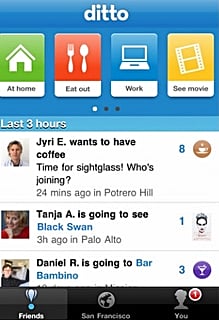 There's a whole new crop of location apps appearing on the mobile scene that allow users to preemptively check in to a venue they'd like to visit in the near future — a restaurant, for example — inviting a friend who may want to do something similar to join. Instead of telling friends and contacts what you're doing, it broadcasts what you plan or want to do.
One such app, called Ditto, combines a user's wants (ex: "I want to eat oysters.") with recommendations from friends (ex: "Go to Hog Island Oyster Company in the Ferry Building in San Francisco."). Users can also elect to accept recommendations from other people who may not be a part of your friend circle.
It's a natural extension of apps like Foursquare and Gowalla, in that it allows you to join forces with friends if you don't feel like visiting a certain place on your own. But to me, this just seems like one more app to check if you're looking for something to do. Not to mention I usually have reasonable success recruiting friends to join me via Twitter postings.
Would you use an app like this?