President Barack Obama's Tech Toys 2010-04-19 05:47:01
6 Clues That Prove President Obama Is a Geek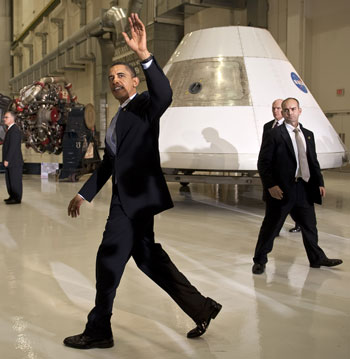 According to The Onion, President Barack Obama dipped into a deep depression when Battlestar Galactica came to an end, but thankfully, he has Star Trek to fall back on. During a recent interview, Leonard Nimoy — the original Spock on the series — revealed that President Obama flashed him the traditional Vulcan greeting v-shaped hand gesture that Nimoy was so famous for the first time they met, and says he knows for sure he's a Trekkie. But let's be honest — that's not the only clue that tells us that the President is a geek. I've dug up six more arguments that prove it. Find out what they are when you read more.


He likes sci-fi movies — His new plan to land on an asteroid and expectation to see astronauts on Mars in his lifetime is something straight out of a Hollywood blockbuster! Hey, if Ben Affleck and Arnold Schwarzenegger can do it, why not a real-life astronaut!?
His forbidden BlackBerry love — Although the President was unable to keep his BlackBerry for official business, it seems that he just can't part with the smartphone and keeps it holstered for personal use only. Sounds like my obsession with my iPhone.
The White House and Air Force One have been given a tech touch —Before the President and the first family even moved into the White House, there was talk about how he'd make over the historic building and bring things up to speed, tech-wise. Now we know that it's filled with iPod docks and BlackBerrys, and Air Force One is stocked with laptops and flatscreens so flights can be as productive as possible.
He's on the cutting edge of tech trends — Barack and his family were spotted watching the 2009 Super Bowl with 3D flair, while the President himself likes to dabble in photography with the prosumer Canon 5D.
He gives geeky gifts — When the President met the Queen of England back in 2009, she gave him a photo of herself, and he presented her with an iPod! Hopefully, it was stocked with all his favorite iTunes favorites.
The First Family that games together, stays together — The first official purchase before heading into the White House in 2009 was a Wii! Being the sports fans that they are, the Obamas enjoy family game night with an active twist.