President George W. Bush Livestream at Facebook HQ
George W. Bush Getting the Facebook Live Treatment Today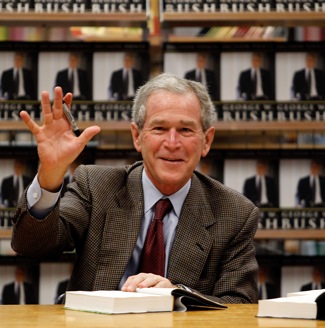 Celebs like Conan and Kanye have wandered the halls of Facebook HQ, but for the first time, an ex-president will be making an appearance.
Former President George W. Bush will make Facebook HQ the next stop on his promotional tour today and will be livestreaming a discussion about his new book, Decision Points. The 43rd president may not be the most popular POTUS on Facebook (that title goes to current President Obama, who currently has over 16 million fans), but George W. has gained an impressive 600,000 "likes" since he opened his page this past Summer.
Find out where to tune in, and how to ask your questions, when you read more.
George W. Bush will be taking questions from viewers and fans today, so post your questions for him on Twitter, and tune in to Facebook Live at 2 p.m. PST for the broadcast.