President Obama's Osama bin Laden Speech on Ustream
Social Networks: The New News Feed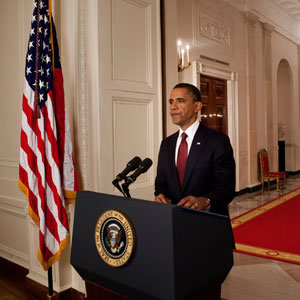 Last night at 8:35 p.m. PST, President Obama announced that Osama bin Laden had been killed by a military operation on the Afghanistan-Pakistan border. But by the time his speech had started, the news of bin Laden's death had already spread around Twitter and Facebook. While social media is a great way to keep in touch with family and friends, it's quickly becoming my favorite place to check up on breaking news. How has social media changed the way news is reported? Check out a few examples of how this breaking story unfolded below.
Twitter — White House communications director Dan Pfeiffer announced on Twitter that the POTUS would be making a speech at 7:30 p.m. PST, but the first tweet about bin Laden's death came from a former chief-of-staff for Donald Rumsfeld. Twitter explosion ensues.
Push notifications — If you have installed any news apps on your smartphones (like AP Mobile for example), you'd get quick and timely breaking news pop-ups. I got my first notification about the news shortly after the first tweet about bin Laden's death hit the Internet. I then went straight to my trending topics on Twitter to get more information.
Text messaging — News spreads quickly online and within social networks thanks to text messaging. Texting has been growing in popularity among all age groups, and is sometimes the preferred choice of communication over phone calls and emails.
Facebook — A group called Osama Bin Laden is Dead pops up on Facebook, and within minutes, starts collecting hundreds of fans. As more people "like" the page, the quicker the news spreads through friends.
Live news feeds online — President Obama addressed the nation via traditional media outlets like TV and radio, as well as on Ustream. It also had embedded video on its official webpage, and on the White House Live Facebook page. Additionally, White House staffers were live tweeting key quotes during the speech on Twitter.
How has social media changed the way you consume news? Where did you first read about Osama bin Laden's death?