President Obama Speaks Against Overuse of Gaming Consoles and Gadgets
Obama Cautions Against Gaming, Gadgets During Speech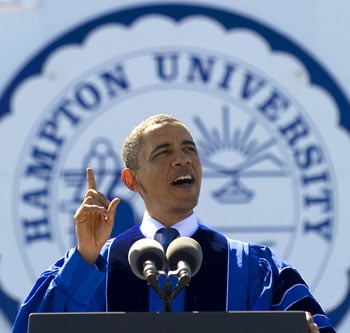 Maybe I spoke too soon when claiming that President Obama was a total geek. Although I'd still like to believe this idea, a commencement speech he gave at Hampton University in Virginia over the weekend may have proven otherwise. Although the president himself is a fan of the Wii, his BlackBerry, and new media like Twitter, he also believes that these outlets can prove a distraction to education. When speaking about the onslaught of 24/7 media, he said:
With iPods and iPads; Xboxes and PlayStations — none of which I know how to work — information becomes a distraction, a diversion, a form of entertainment, rather than a tool of empowerment, rather than the means of emancipation.
Although I agree with President Obama to an extent, I can't say I'm 100 percent behind his statement. Find out why when you read more.
I agree that your gadgets can prove a distraction if you let them. Playing a video game may be a form of entertainment (and sometimes a total time-suck), but that's not all that your console can provide — your Playstation 3 can help find a cure for cancer, your iPad gives you access to millions of books with just a few swipes of your finger, while those same digital books save endless amounts of trees from being destroyed for paper. New technology turns fitness into fun with the help of a few video games, and new music and film (which both can be played on your gaming console, along with your iPads and iPods) can inspire folks young and old.
Not only that, but utilizing these tools to our advantage has allowed us to learn about world events as they happen and give voices to those who wouldn't have one otherwise. I don't know anyone who could say that is a bad thing.