President Obama on The View
Who Tweets For the President? "Some 20 Year Old"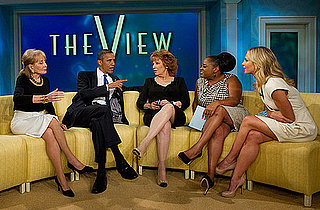 In a historic event, President Obama appeared on The View yesterday, and amid questions from the hosts about pop culture (he knew Lindsay was in jail, but has no idea who Snooki is), he mentioned — as we knew — that he wasn't writing his own tweets.
And when they asked who was responsible for the tweets, he replied, "I think there's an official President's tweet, but some 20 year old is doing a lot of the tweeting."
He also dished about his phone choice (he's still rocking his Presidential BlackBerry in lieu of an iPhone), and he has a ton of songs on his iPod. "You name a song, I've got it," he says, although clarifies it does not contain any Justin Bieber.
To check out the clip (skip to the 1:10 mark to hear him talk about Twitter) after the break.