Presidential History Apps
Digital Resources For Presidential History: Apps, Ebooks, and Video
Don't wait four score and seven years to pick up some presidential history; there are plenty of digital resources packed with little known facts and fun trivia about America's chief executives.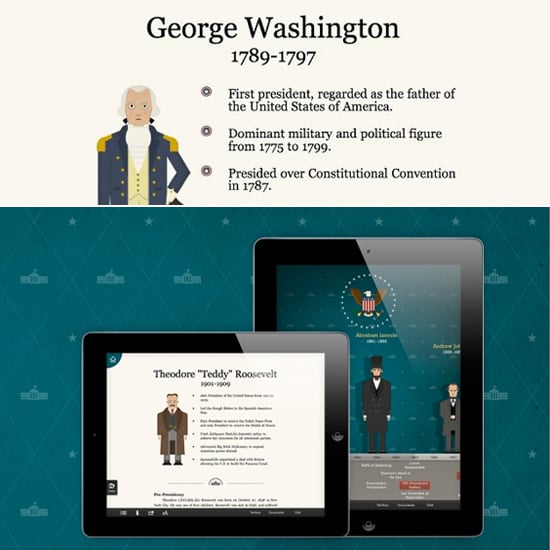 From Washington to Obama, learn about the secret lives of the United States' greatest leaders, and read their most notable speeches and writings. Spend this Presidents' Day with interactive apps, riveting ebooks, and compelling video documentaries about heads of state past and present.
iPad
American Presidents for iPad ($4) — The charming illustrations and animations make this educational app for iPad well worth the money. View biographies of all the presidents, a map of the US's expansion, a detailed presidential timeline, and hundreds of high-res vintage photos.
See more apps for iOS and Android, plus presidential ebooks and video after the break.
iOS Devices
United States President Trivia ($1) — Who was the second president to die in office? Take this app's quiz to test your White House knowledge. Try the free version if you're on the fence about putting your presidential knowledge to the test.
The White House (free) — Get the latest news, photos, videos, and briefing room memos from our current commander-in-chief.
Android Devices
Ebooks
The Presidents Club ($10) — This bestselling political thriller about "the world's most exclusive fraternity" is available for iOS, Kindle, and Nook. Read about presidents' friendships with each other, and how the men are forever affected by their presidency.
Video
The Ultimate Guide to the Presidents ($14) — The series, which premiered this January on The History Channel, offers a fresh perspective on the men in the Oval Office, and breaks down American history into eight thrilling episodes. The video is available on iTunes ($19) and Amazon.
Share the fun facts you learned about our nation's presidents in the comments! If you haven't figured out the answer to our Twitter question, "Who was the first president born in the 20th century?" find out here.