Prevent Cell Phone Radiation Exposure FAQs
Cell Radiation: Answers to Your Frequently Asked Questions
The World Health Organization recently listed the cell phone as "carcinogenic," which means it could potentially be bad for your health due to the levels of radiation emitted during use.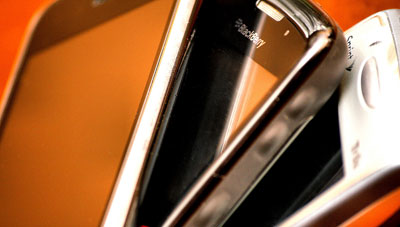 There are easy ways to cut down your risk of exposure, but a few of you had some additional questions that we'd like to cover here. Check out the cell phone radiation FAQ below, and leave any other questions you have in the comments; we'll be updating this post with more info!
What kinds of cell phones emit the least amount of radiation?
From CNET:
Samsung Blue Earth
Samsung Infuse 4G
Samsung Acclaim
Samsung Replenish
Huawei Ideos X5
What kinds of cell phones emit the highest amount of radiation?
From CNET:
Motorola Bravo
Motorola Droid 2 Global
Sony Ericsson Satio (Idou)
Sony Ericsson Xperia X10 Mini Pro
Kyocera Jax S1300
Can I use a Bluetooth earpiece instead?
You can use a Bluetooth earpiece, but since those kinds of headsets use radio waves to transmit data, you're better off using a wired hands-free device. Earbuds with an attached microphone should work just fine.
Get more answers after the jump
How far away should I hold my phone from my head?
The recommended distance is 15mm, but the goal is to keep your device as far away from your head as possible. So if you're using the speakerphone, don't keep it close to your face. If you're in the car, put the phone somewhere safe (say the glove box?) and use a wireless car speaker to chat while you're on the road.
Does a phone's reception level make a difference?
Yes. Your phone has to work harder in poor reception areas, so take those dropped calls as a sign to stay off of the phone until you get a better signal.
Are cordless phones safe to use?
Though cordless phones do operate with radio frequencies similar to those of mobile phones, according to the The National Cancer Institute, since they operate at a limited range, their signals are much less powerful.
What can I do to cut down my risk?
Use speakerphone mode — Keep a distance between you and the radiation waves being emitted from your handset by using the speakerphone, and using a Bluetooth car device (like the Motorola Roadster) when you're on the road.
Get an antiradiation case — You may think it's snake oil, but the science is there — the Case-Mate Bounce Case ($50) redirects and reduces hot-spot radiation by up to 85 percent, and overall radiation by 65 percent.
Text instead — Another way of keeping the cell phone away from your noggin is by texting instead of calling. I bet a lot of you are already doing this!
Use accessories to your advantage — Who knew that a retro-styled accessory could be such a handy tool for reducing your radiation risk? Called Moshi Moshi Pop Phone, these cell phone and laptop attachments let you make clear calls while keeping your phone away from your skull.
Source: Flickr user Phil Roeder