Preview of Pixar's New Movie Brave, Picture and Video
4 Details to Look Forward to in Pixar's Brave
The magic of Pixar's Oscar-winning films is in their ability to take seemingly ordinary story lines about childhood toys or a garbage-collecting robot and transform them into emotional narratives about love and life. The studio's upcoming Summer film Brave is its first foray into the familiar coming-of-age tale, this one as told through the experiences of a defiant teenage girl. Pixar's first female lead, Merida, is a princess with an affinity for archery in ancient Scotland who refuses to give up her freedom by submitting to an arranged marriage and sets off to change her fate.
Though the movie isn't due for release until June 22, 2012, we caught an unfinished preview of the first 30 minutes of Brave, and there's a lot to get excited about in this Pixar period piece. Here's why the film is worth the wait: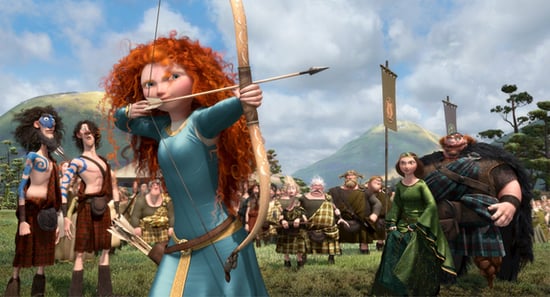 Pixar Technical Wizardry — Brave demonstrates the studio's technical prowess at its best. Merida's gorgeous curls (seen in the above picture) are no easy feat of animation. There's a reason so few of your favorite animated characters have big, curly hair — it's very difficult to create on the computer. Over 111,000 individual curls were hand-drawn for Merida's mane, which was then digitally rendered as 1.8 million strands. Pixar then had to create a physics simulator to mathematically control how the waves move in the wind and exist within gravity.
The Art — Without verging into awkward moments of uncanny valley, Brave has moments of startling realism amid its fantasy story line. The overcast skies and moss-covered landscape of Scotland have been painstakingly studied, drawn, and shaded to create a setting worthy of this new legend. By the time filming wrapped, 111,394 storyboard drawings were created, a number that far exceeds the preproduction that went into most other Pixar films.
Keep reading how the film's great for gingers and view the official trailer after the break.
Archery — Note it now: the year 2012 is the year of archery. Move over, Katniss from The Hunger Games — Merida has been slinging arrows since before Scotland got reality TV shows. After seeing both characters' skills on the field, you'll know there's never been a better time to pick up a bow and arrow.
Ginger Respect — Merida wears her vibrant, curly red hair as a badge of honor for her wild ways. On a lighthearted note, you can't help but hope her inspiring character helps remove the dreaded ginger-nerd stigma in society. Redheads rule the world.
Are you looking forward to Brave?