Print Facebook Photos From Kodak's In-Store Kiosks
Print Your Facebook Photos Directly From Kodak Kiosks
There's something to be said for printed photos. Although I don't print my pics anymore — I keep them stored online — I know friends and family members who still like to print a photo or two.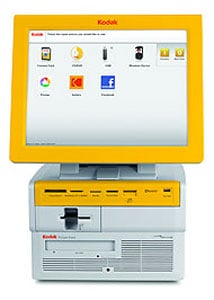 Thankfully, Kodak is making it easy to print your favorite social network pics right from their in-store kiosks.
Rolling out this year at stores like CVS and Target, Kodak's new kiosk software update will allow users to log into their Facebook and Picasa accounts, use some cool photo editing software — like image resize, pet red eye retouching, and spot-healing — and print out pics on the fly.
Logging into your accounts is easy, since you won't be signing into the full version of the sites — it will be a modified, photo-only version. Additionally, you'll be able to grab images from videos stored online! This is great news for Facebook fiends, but it's not the only easy way to print out your digital pics. Check out five more easy ways you can print your favorite photos after the break.