Printing Facebook Friends' Images in a Poster
Facebook Friend Poster: The Ultimate Geeky Gift
You're going to be seeing this popping up on a lot of holiday gift guides this year, especially for those who are socially connected. Called Printing Facebook, this service prints out a huge 20-by-40-inch poster of all your Facebook friends' images in an artful collection to frame and hang on your (real) wall.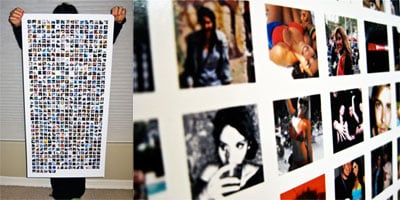 Coming with high-quality photo paper and high-res images, a Printing Facebook print makes a great gift for a popular pal who wants a reminder of just how friendly she is. The best part? The cost of the print is only $20! You can even print from Groups and Fan pages.
You can already print the best of your Twitter feed in book form, so why not add to the social collection?