Pros and Cons of Apple's New MacBook Pro
4 Reasons to Buy the New Retina Display MacBook Pro
Apple unveiled the latest addition to the MacBook lineup at WWDC with the Retina Display MacBook Pro. Available now from a starting price of $2,199, the newest Mac is a tempting investment, but is it worth the hype? We lay out four reasons Apple's new notebook is worth a purchase.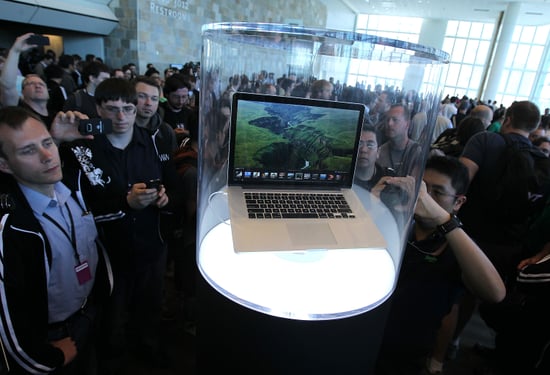 You crave HD. The Retina display notebook boasts over 5 million pixels, making the 2880x1800 resolution more high-def than, well, an HDTV. Software and apps like iPhoto, iMovie, iTunes, Aperture, and Final Cut Pro X were updated to take advantage of the Retina technology. With Apple's claim that the typeface resolution is better than a printed page, your eyes can't wait for this pixel explosion.
You're a media junkie. As the first Apple notebook to include an HDMI cable, it removes the HDMI adapter to HDMI cable that routine Mac users are used to when wanting to view media on a TV. That's one less $40 accessory you'll need.
Size does matter. Find yourself taking your notebook everywhere? At 0.71 inches thick, the Retina MacBook Pro is nearly as thin as the MacBook Air and weighs just under 4.5 pounds, making it that much less of a burden when toting it around in a shoulder bag all day. Plus, it still has that plush 15.4-inch screen size.
You multitask all day. If you're constantly cursing the motherboard gods when your system slows down on a busy computing day, then the MacBook's improved memory might just be the answer to your hardware prayers. With up to 768GB flash storage, the notebook should handle your multiple tabs, documents, open email inbox, and streaming music like a, ahem, Pro.
Are you planning to buy the Retina Display MacBook Pro? If you're on the fence, read our reasons to skip Apple's new product.