Pros and Cons of the Google Chrome Cr-48 Notebook
First Impressions: Pros and Cons of the Google Chrome Notebook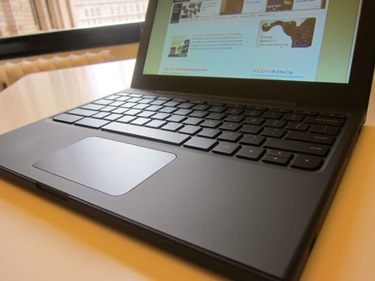 I finally received my Cr-48 laptop last week, and after taking an initial photo tour, I got to work on figuring out the pros and cons of the machine. Of course, Google has already said that this version is not for consumers, and both the interior and exterior could change after the beta testing program has been completed. However, I've already found some great (and not-so great) features coming with the Chrome notebook.
First up, the details: the Cr-48 comes with a 12.1-inch matte screen, flash hard drive, a full-sized keyboard, one USB, VGA, 35mm headphone jack, and an SD card reader. It's said to get about eight hours of surfing time, and so far, that's been right on point. Find out the pros and cons I've come across so far in my first impressions below.
Pros
Fast setup — just enter your Google account info, take a pic, and you're off — for multiple users
Lightweight, and comes with a nice, rubbery exterior finish
All your info/work/data is in the cloud — take it anywhere!
Seamless Google product integration, like Docs, Picasa, and Gmail (that one's pretty obvious)
Lots of web apps to choose from in the Chrome App Store
The option for Verizon contract-free data plans
Syncs your Chrome browser bookmarks automatically
Extremely fast wake times
Matte screen keeps glare at bay
See my list of cons, and who I think this laptop is really for after the jump.
Cons
Only one USB port
You can only print using Google's Cloud Print service
Trackpad is pretty testy
Hard to navigate file system for downloads
Getting used to the OS (which is basically just a web browser) made me feel like I was missing a few body parts — no desktop, file folders, etc.
Choppy videos; Hulu is especially troublesome
You have to enter your credit card information to use the free and included 100MB of 3G access through Verizon
Bottom Line: Who's This Laptop For?
I pretty much live on the Internet, so you'd think that I could totally get away with having a browser-based notebook in my life. However, I'm not sure this is the case. As I mentioned above, not having a traditional desktop and software would be totally foreign to me; web apps can only get you so far. That said, this laptop seems perfect for people who want a simple, lightweight, cloud-based machine for surfing the web and sharing docs between multiple users, or could serve as a great secondary machine for business travelers.
Since the Chrome notebook is basically one big web browser, I'm gonna take a guess here and say that once Google, Acer, and Samsung do release a consumer-ready product, that it will be super affordable — I'm hoping for something around $150 - $200.