Pros and Cons of the New Apple iPad
4 Reasons to Buy a New iPad
Apple's Tim Cook announced the new iPad today (just iPad — not the iPad 3 or HD, which came as a surprise), and while the specs on the next-gen tablet are impressive, it may not be for everyone. Should you buy a new iPad? Here, we list four situations where the new iPad might be worth a buy.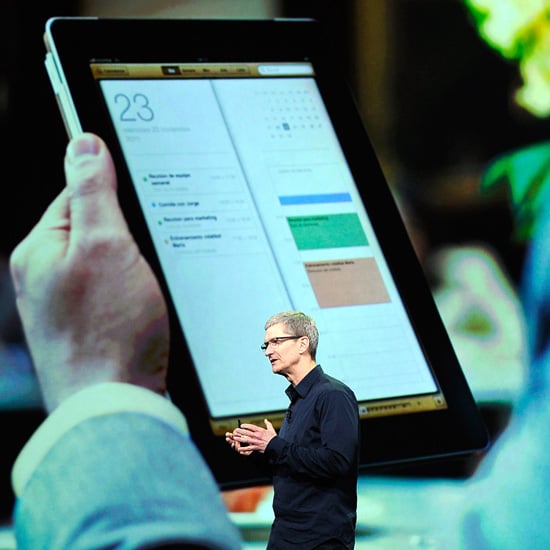 You're a world traveler — The new iPad allows for travelers to jump on 3G connections around the globe, while the 4G speeds at home ensure quick downloads and connections. Plus, while the iPad is slightly heavier than the iPad 2, 1.4 pounds is much easier to lug around than your laptop.
You watch a lot of movies — The new iPad's 9.7-inch, 2048 x 1536 Retina display has 44 percent improved color saturation and 246 pixels per inch, which gives better viewing quality than your HDTV. Amazing! If you're a movie buff, this means crisp, clear, and lifelike images.
You want to ditch your laptop for photo editing — It's possible to edit your photos on an iPad, and the new iPad's A5X processor, which is four times as fast as a Tegra 3 processor, allows you to efficiently run more apps and videos with improved performance. A better processor also means faster speeds when watching movies, flipping through photos, and more. Basically, this iPad is superpowerful.
You have money to burn — The new iPad isn't cheap. If you already have an iPad 2, it may not be worth the purchase price. WiFi-only iPads start at $499 for 16GB, while a WiFi + 4G 16GB iPad is $629. Need more storage space? You could be spend up to $829 for a 64GB WiFi + 4G model, which might be necessary if you want to store movies, photos, and download lots of apps.
Should you buy a new iPad? Here's a few reasons you might want to skip it.