Pros and Cons of Spotify
Pros and Cons of Spotify
The latest addition to the online music, Spotify, launched in the US last week and it's had the Internet buzzing. We've been using the service once the invites came through and are, admittedly, hooked on the sleek desktop application.
The cloud-based music streaming service offers free limited access to users on the desktop app. While, $5 per month gains desktop users full access to the Spotify music library, and $10 allows unlimited access, syncing with mobile devices, and off-line listening. We've compiled what we love and don't really dig about the service – do you agree?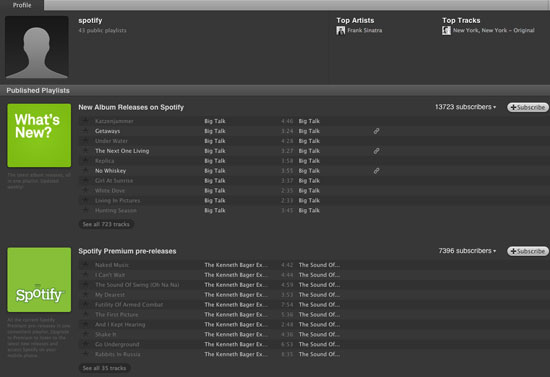 Hear what you want to hear, when you want to hear it. Want to play Blondie at your '80s dance party? Search "Heart of Glass" and listen to the song in full. Sure there are some artists that Spotify doesn't have rights to, but with over 15 million tracks available, the amount of accessible songs is impressive.
Collaborative playlists make the music world go round. Users can allow friends to add to a playlist by right clicking on the playlist's name in the left menu sidebar and selecting the collaborative playlist option.
We've all seen the dreaded "Buffering . . ." label on streaming media service, but we've yet to run into this problem with Spotify's speedy service.
Click through for a few qualms about Spotify.
Our main cons are within searching for friends. The Facebook integration is great, but we'd also like to add people via Gmail, for those rare folks not on Facebook. Searching for other users can also be tricky if you don't know their Spotify username. Even if the full first and last name are linked to the Spotify account, you must search via spotify:user:username, in that sequence.
We'd like to see the option to purchase individual songs or full albums in Spotify's free version. This may be part of some complicated copyright agreements, but it would be nice to pick and choose songs to permanently own.
Unless a paid subscriber bequeaths an invite, the options for securing a Spotify invite are adding your email address straight to the Spotify wait list or a bit of a shortcut may be available via Coca-Cola's partnership.