Public Guilt Tripping on Facebook
Do You Get Guilt Trips From Your Family Via Facebook?
Being tech-savvy definitely helps me stay connected to my family, despite having many miles between us. We schedule weekly video chats, and now that mom and dad are on Facebook, it keeps the conversation going during the in-between. The problem is that the parentals are using my Facebook wall as a place to guilt trip me. I can deal with having my high school graduation photos tagged, and even the occasional sappy message from my mom, but getting a virtual nudge for every holiday that I spend away from them is not cool!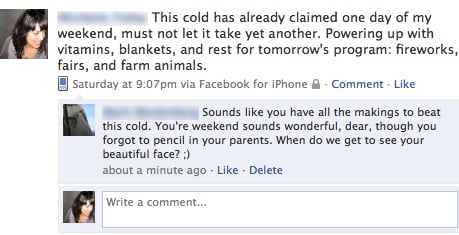 I know it comes from a place of love, but add to this that my friends jokingly join in on the thread, and it becomes all too much: "Yeah, why haven't you visited mom and dad lately? Bad daughter! I'll go see them!" Tell me . . .