Quote Poster Maker
Recite This, the Destination For DIY Digital Inspiration
Turn your favorite geekspirational quotes into beautiful digital posters with Recite This, a website that creates design-forward shareable graphics — for free! Type in the wise words of your choice, and preview how the quote looks in over 30 different typographic styles with fun design elements like graphics, ribbons, photography, and quote bubbles.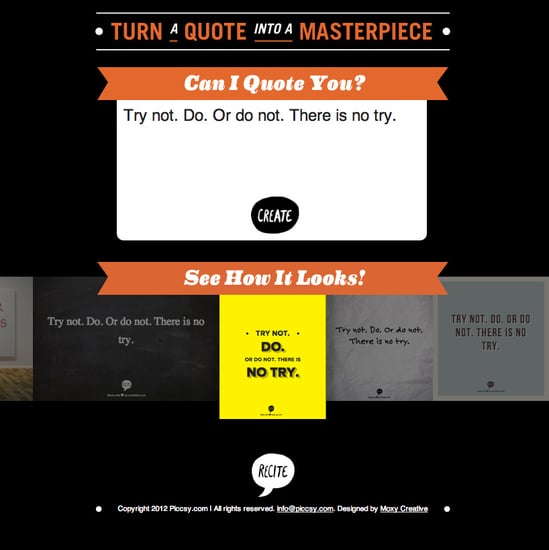 When your inspirational creation is done, Recite This can share it straight to Tumblr, Pinterest, Stumbleupon, Facebook, or Twitter. You can also download the image to your desktop. When you're in need of some spoken truths, Recite This has a Find a Quote feature that will provide you with tons of verbal inspiration about age, success, intelligence, and everything in between.
Moxy Creative, the team behind Recite This, is no stranger to bold poster-making. They've created series about famous eyewear, iconic movie cocktails, and cities around the world. Check out Moxy Creative's brilliant body of work and see what other DIY typographic digital posters others are making on Tumblr.
Follow POPSUGAR Tech on Tumblr for more inspirational bits, and be sure to look through our collection of famous quotes from geek heroes such as Yoda, Jean-Luc Picard, and Hitchhiker's Guide to the Galaxy author Douglas Adams.