RIM PlayBook Tablet
RIM Officially Announces the PlayBook Tablet, Due in 2011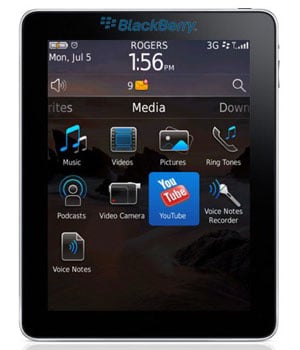 Sketchy details first emerged about iPad competitor over the Summer, and now RIM has released official details. The tablet, dubbed the PlayBook — not the Blackpad — features a seven-inch screen (smaller than the previously reported 9.7-inch) with a 1024 x 600 pixel display. It will also feature a GHz dual-core processor, 1GB of RAM, dual HD cameras, and support for HTML 5 and Flash.
It's 9.7 mm thick, with HDMI and USB ports. The PlayBook will run the newest BlackBerry OS, and only work over a WiFi connection or tethered connection from another BlackBerry device, though a 3G version is expected in a later iteration.
While pricing details weren't announced, the PlayBook is expected to hit stores in early 2011. Check out a video of the new device's functionality after the break.