Rally Up Is a Location-Based App For Friends Only
A Location-Based App For Real Friends Only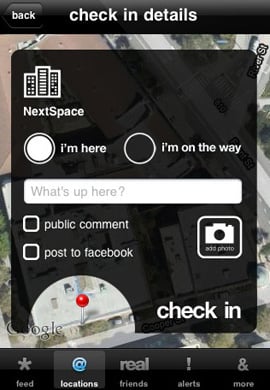 Obviously, location-based apps and technology are all over the news and opinions are strong. You like Foursquare the best of all services, but many of you still have safety concerns associated with this latest trend. So here's an app I can get behind: Rally Up for the iPhone is a location-based social networking app that focuses on user privacy.
Rally Up was made to use only with your "real" friends — people with whom you want to make plans with and share your location. In order to keep the information private, there's no streaming of the data to Twitter. Your location is only divulged to your list of Rally Up friends. Like other similar apps, you do receive badges for checking into certain venues, but bells and whistles aside, for a group of iPhone-toting friends, this app is a great way to keep in touch. There's even an "I'm on my way" option to let the group know you're almost there. Plus, the app is free.
Hear my thoughts on Rally Up and learn who this app would be great for after the break.
I know, you're thinking, "Why do we need another Foursquare/Gowalla/Loopt?" Truth is, we don't. But due to the continued popularity, success, and commercialization of these applications, using them while maintaining your privacy is getting tough. The only thing I find a little strange is that Rally Up will post location details to Facebook if you choose. Its rationale: people are likely to manage their Facebook friend list more closely than they'd manage their list of Twitter followers. I don't know that I need another option for location-sharing, but for friends concerned with privacy issues, it could be a great fit.