Ramen Bowl With iPhone Dock
The Anti-Loneliness Ramen Bowl: Love It or Leave It?
College students, young startup kids, and single city-dwellers slurping their way through life, one ramen pack at a time, can look forward to dinner that's a little less lonely.
The folks at MisoSoupDesign have invented a hybrid device we didn't even know we needed: an eating vessel with a built-in iPhone dock. Meet the Anti-Loneliness Ramen Bowl, which props up an iPhone as you're comforted by soupy goodness.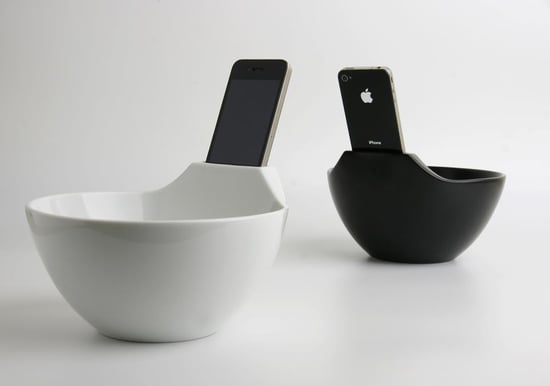 Hybrids are the future, but we're a little baffled by this dine-and-device gizmo. Is the Anti-Loneliness Ramen Bowl completely genius or kind of . . . sad? It seems like a potentially dangerous situation with hot broth and smartphone in such close proximity. But, on the other hand, the bowl/dock offers a seamless eating and viewing experience that, well, no other bowl can.
We don't know much about the high-tech ramen bowl yet — just that MisoSoupDesign is accepting a limited number of preorders via email (info@misosoupdesign.com) and the bowls will be available in late Spring. No word on the retail price, but we want to know, ramen lovers: love it or leave it?