Rdio Music Available in US and Canada
Music Service Rdio Launches Today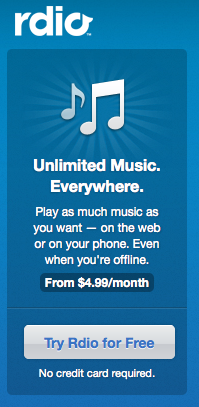 Subscription-based social music service Rdio officially launched today, providing users unlimited access to 7 million songs on their computers and phones. The service costs $10 per month for web, mobile, and offline access, or $5 monthly for web only. Choosing the $10 subscription gives you an open door to playlists via newly updated apps for iPhone and Android; a BlackBerry app is also available.
But serving up music on your computer and phone isn't all Rdio has going for it. Find out what makes this player unique when you read more.
What really sets the service apart is the ability to see what your friends are listening to, get recommendations, and get access to their playlists. You can also match Rdio to your iTunes playlist, essentially copying your iTunes songs to your Rdio account — a great feature for music fans who don't want to endlessly search a database for music they already have stored on their computer. Additionally, Rdio can recommend music you'd like based on what you're already listening to, similar to Apple's Genius feature in iTunes.
The service was previously available by invitation only, but starting today, it's open to all music lovers in the US and Canada. I've been using Rdio for a few months already and have never been at a loss to find music perfectly suited to my mood. Plus, getting all the music I want from the web or on my phone is a major perk!