Reading online content sites that are full of ad clutter can get old — especially if you're trying to read a long magazine or newspaper feature but find yourself distracted by flashing ads and other page elements that have nothing to do with the story. Helping to calm the clutter, Readability takes a page's text and displays it in a simple, customizable, and easy-to-read format.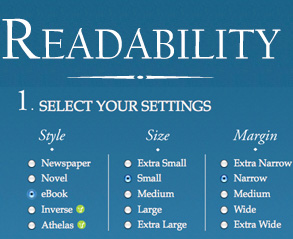 First, visit the Readability homepage to choose your preferred reader settings. Choose from newspaper-themed serif font on a white background, an ebook-themed sans-serif font, even a white-on-black inverted page. Then set the text and margin sizes and drag the Readability bookmark onto your browser. Then just click on the link each time you want to change the page into an easily readable format.
This works best for longer articles, not homepages or content pages containing many different articles. It's also a great way to format an otherwise difficult article for printing. One con: if you're reading a long article with multiple pages, Readability won't pull the text from each page into one; it changes the text on the first page only.