Reasons to Use Scoutmob Deal Site
Scoutmob: One of the Best Deal Sites You've Never Heard Of
My email box is in overdrive when it comes to saving money: PopSugar City, LivingSocial, and Groupon are just a few of the collective-buying sites I subscribe to. As of late, Scoutmob has become one of my favorite ways to explore neighborhoods and meet awesome folk, all while saving some major bucks in the process. And, given that a new round of funding allowed it to expand from three cities to 13 (with seven more on the way), it could be one of the best deal sites you've never heard of. Here's why: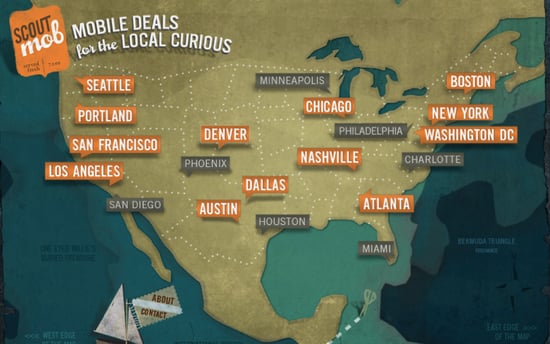 It's free — The not-costing-a-thing aspect of Scoutmob's business model is pretty sweet, and, it's the reason I joined in the first place. Unlike other sites, which offer goods and services at deeply discounted rates, Scoutmob gets the deal and passes it along to users for free. At any given time, there are at least a dozen Scoutmob deals available in each city, offering a 50 percent savings on purchases. The majority of Scoutmob's deals are food- and drink-related with a few retail shops thrown in.
Even more reasons to use Scoutmob after the break!
It encourages you to explore — While you're able to claim deals through the Scoutmob website, I prefer to use its app (available for both iPhone and Android users) because it works with your phone's GPS to indicate which deals you're closet to. When I'm walking around or have plans to venture out, I'll check to see if there's a nearby Scoutmob deal I can use. This feature has turned me on to some awesome restaurants and cafes that I may have passed over otherwise.
It's more than just a deal site — While an amazing deal gets customers, it won't get you a community of addictive followers. Of all the deal sites available, there are two that I visit on a regular basis: PopSugar City and Scoutmob. What I like about both PopSugar City and Scoutmob is that they move beyond the deal by creating great editorial content; it's exactly what you'd get if a city guide smashed into a deal site. In addition to the local deal offerings, Scoutmob features profiles on locals, weekly event calendars, and best-of lists for each city. They do it in a distinct voice, too. Think: funny and in-the-know — basically, someone you'd want to have a beer with.