Rebecca Minkoff Wearable Tech
Rebecca Minkoff Debuts the Edgiest Wearable Tech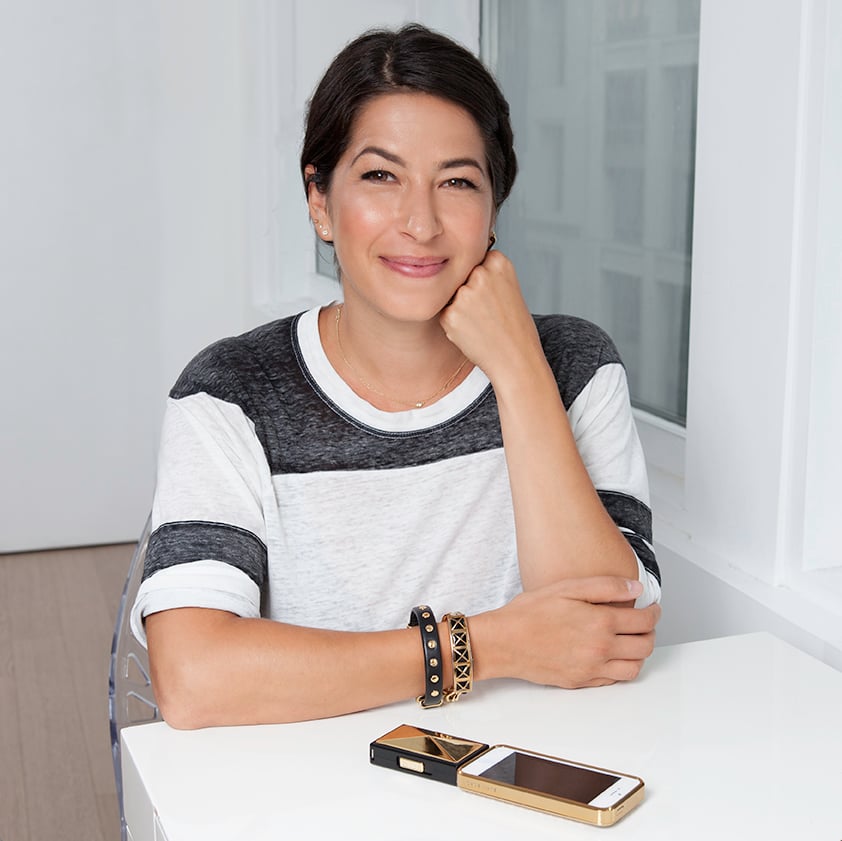 Rebecca Minkoff's cool-girl style is headed for your gadgets! The designer has always had a penchant for tech. We loved Rebecca's previous collaborations with Stellé speakers and Frends headphones. But today, she's making the most exciting announcement yet: a new line of wearable tech accessories that hardly look like tech at all.
Seen above, on Rebecca, are two pieces: a gold chain-link notification bracelet and a studded lightning cable bracelet for iPhone 5, 5S, and 5C. The notification bracelet works a lot like the smart jewelry Ringly. It will pair to smartphones via Bluetooth and buzz you (albeit inconspicuously) when you get calls or texts from the VIPs in your life. The cable bracelet, on the other hand, will make sure that whenever your battery is low, you'll always have an iPhone-compatible USB on hand to charge your device. Together, the two bracelets make a winning pair. You'll be able to get them on your wrists this holiday season, along with Opening Ceremony and Intel's luxury smart bracelet that has a small touchscreen display and its own 3G data connection.
The accessories will strut down the Fashion Week runway at 3 p.m. EDT today, and you can catch all the live-streamed action on Rebecca Minkoff's website. Cute iPhone cases, wristlets, and the mobile charger pictured above are also in store for Spring '15, so tune in!
Tune in today at 3PM EST to watch our live runway show #NYFW #RMSPRING http://t.co/NRVznRrTU7 pic.twitter.com/vAKxgdUrAD

— Rebecca Minkoff (@RebeccaMinkoff) September 5, 2014