Recent UFO Sightings
UFO Sightings Take Flight in Recent Years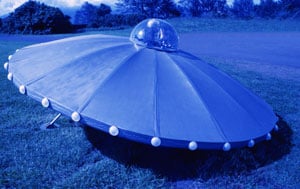 Alongside the premiere of the History Channel's new documentary Secret Access: UFOs on the Record, alien spacecraft sightings are taking flight. According to the Mutual UFO Network, they are receiving more claims of UFO sightings from sky watchers in Canada and the US than ever before: "Over the past year, we've been averaging 500 sighting reports a month, compared to about 300 three years ago [67 percent]."
While many of these supposed sightings can be easily dismissed as natural occurrences or military aircrafts, the History Channel film investigates those rare unexplainable claims. Featuring in-depth interviews with people that witnessed some of the most buzzed about UFO encounters of recent decades, the documentary attempts to prove the legitimacy of the few legendary alien spacecraft reports.
One of the most public cases of a UFO sighting occurred on a 1986 Japan Airlines flight over Alaska. The pilot immediately radioed air traffic control to report an unknown spacecraft. Years later the pilot continued to stand by the sighting despite public skepticism.
Do you believe any of the UFO sightings throughout the years were legitimate? After the break, check out a clip from Secret Access: UFOs on the Record on the Japan Airlines sighting and share your opinion.