Recycled Keyboard Journal: Totally Geeky or Geek Chic?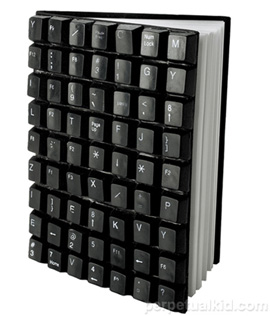 I suppose with all of the new, improved keyboards hitting the market there's a surplus of cast-offs. Similar to the Keyboard Clutch, here's the Recycled Keyboard Notebook ($17). Most of you voted "Geek chic" for the clutch; do you feel the same way about the journal? I think it's a bit of an oxymoron — the keyboard cover is made from recycled material . . . but the paper inside is not.
If you like it, don't miss the Recycled Keyboard Pencil Cup (yes, I'm serious), available in round or square varieties for $12. I'm all for environmental friendliness.