Red BlackBerry Torch Valentine's Day Giveaway
Win a Red-Hot BlackBerry Torch From GeekSugar!
Tis the season for all things red and delicious, so it's only appropriate that we'd want to spread the love by giving away something equally as sweet in gadget form. This week, we're giving away a brand-new red AT&T BlackBerry Torch 9800 to one lucky reader! Coming with the latest BlackBerry OS 6.0, you can call, text, and BBM your loved ones, manage your social life on the go with access to tons of BlackBerry apps like Facebook and Twitter, take and share great pics with the crisp 5MP camera, and store it all with 8GB of included memory. What do you have to do to win? It's easy — like us on Facebook, then leave a comment on our wall telling us whom you'd message on Valentine's Day with your new red-hot Torch.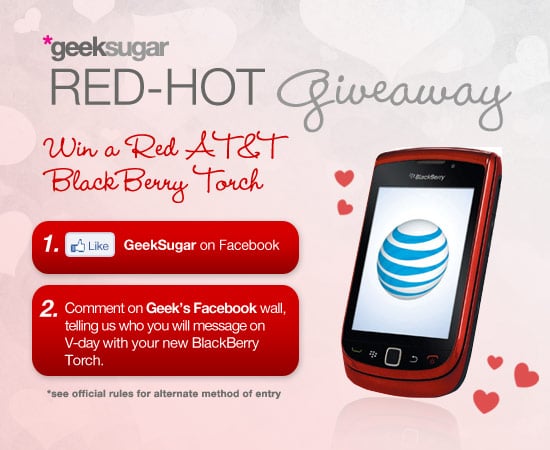 Check out the official rules for more info, but get a move on — the contest ends this Sunday, Feb. 13!