Relationship Rules for the Workplace .
Tech Dating 101: Relationship Rules For the Workplace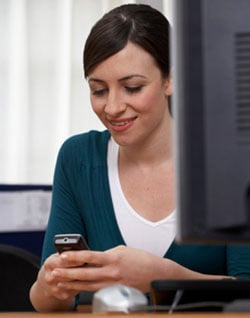 When you start seeing someone new, there's little you want to do other than spend as much time with them, talking to them, and talking about them as possible. When it comes to constant communication during the workday though, too many checkins can get obtrusive — not to mention annoy your co-workers and be very, very distracting from the tasks at hand. We've all fallen prey to over-sharing with our significant others at one point or another, but in an effort to save your co-workers' sanity (and not to mention, increase your workday productivity), you should establish a few ground rules when it comes to communicating with your guy or gal during work hours.


If you have unconfirmed plans, emails, and texts pertaining to your plans are allowed. Once you figure out what you're doing, it's time to shut it down. Or at least slow it down.
If you don't have plans, a hello email is OK, but no more than four or five exchanges in any given "conversation," otherwise it's too much time and focus wasted.
To hear a few more rules to work with, just
.


Exceptions for Really Big News are allowed. If you get the urge to ping your better half every time something exciting happens, go for it! But hold off on the details until the end of the day.
Absolutely NO arguing at work. Not on the phone, not via email, no matter how angry you are, especially if you know you get emotional about relationship issues. An argument could send you over the edge, which can end up being distracting and is totally unprofessional.
Keep the emails clean. This goes without saying in a work environment, but even if you use a personal email address, your employer can technically (and legally) track what you're doing. Keep it clean during the work day!

Do you have a Love 2.0 questioned you want answered? Create a PopSugar Account or log in to your account. Then join the Tech Dating 101 because we understand that love and dating are stressful and the Internet and social networking sites can just make things worse. You never know, your question could be featured on GeekSugar! Here's a detailed guide to posting questions or posts to groups if you are new to the PopSugar Community.