Remove Politics From Internet Filter
Unpolitic.me Replaces Political Banter With . . . Cats
With the presidential election just a week and a half away, the candidates — and their supporters — have ramped up their campaign efforts all over social media and the Interwebs, dividing friends left and right. So much politics in your face can be overwhelming, but luckily, there's a solution.
Unpolitic.me, a Google Chrome extension from the makers of Unbaby.me, removes all mentions of presidential politics on a webpage and replaces the posts with the most bipartisan animal of them all: cats.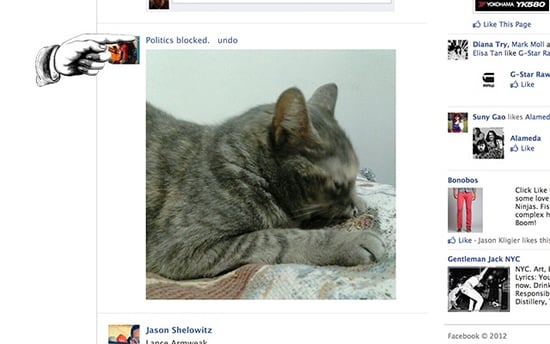 If you're tired of the political talk on Facebook, Twitter, or just about any other site on the web, give Unpolitic.me a spin, and get bombarded by your favorite feline friends instead.