Restaurant Apps For iPhone
Download of the Day: WaitList
What's more annoying than heading out with your date and finding that the restaurant you wanted to eat at has an insane wait list? Not much. Instead of playing restaurant roulette, why not download WaitList (free) on your iPhone and check the wait times before you go?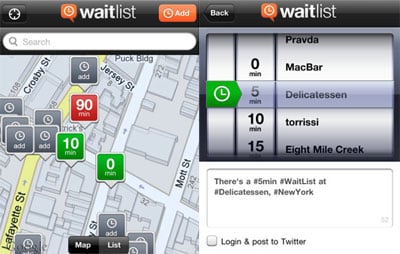 Free from the App store, WaitList keeps you on top of wait times in your area — including bars, clubs, and restaurants — thanks to other helpful patrons using the app, which means the more people use it, the more helpful it's going to be. So everyone download it now and start reporting, OK?
Have you found a cool download-worthy treasure you'd like to share with the rest of us? Join the Download of the Day group, where you can submit your favorite downloads, apps, and widgets. Your suggestion could be featured on GeekSugar!