Retro Phone Handset
Retro Phone Handset: Totally Geeky or Geek Chic?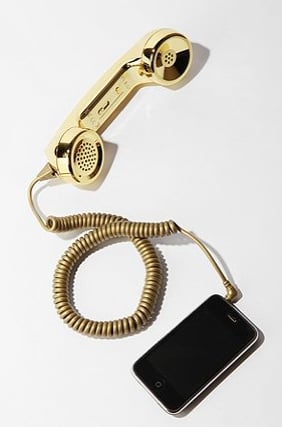 Oh, Urban Outfitters, what's not to love about your vintage gadgetry and over-the-top accessories, including this Retro Phone Handset ($78). The handset is made from plastic and painted a shiny gold. It comes with five different adapters for use with your iPhone 3/3GS, Sony, Nokia, Samsung, or Motorola device. (Sorry iPhone 4 users, this doesn't work with your device.)
It's a little bit clunky and obviously not a travel accessory, but I love it! It's quirky enough to leave out on a coffee table and hilarious enough to actually use. What do you think?