Revamped Push Notifications For iOS
Apple Planning Revamped Push Notifications For iOS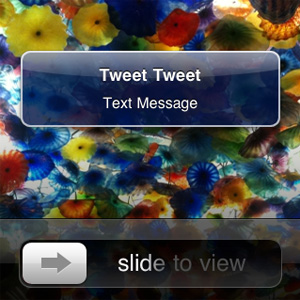 This is excellent news. According to an in-the-know source, Apple is planning to revamp its push notification system for iOS. Its current pop-up system has been criticized for being intrusive, ugly, and almost useless — dismissing the notification (to use another app or feature, for example), makes it easy to forget that the notification even existed.
Find out more about the rumored upgrades after the break.
Apparently, instead of fixing the problem internally, Apple is planning to buy a small app developer whose technology already solves the problem — and there is speculation that it may be Boxcar, a free app that organizes push notifications from a variety of sources in an eye-pleasing and easy-to-use display.
The new notification system could even employ push messages from places other than just apps. For example, web subscriptions could be supported, too. Of course, this is all still the stuff of speculation and we'll likely not know any more about the new functionality until it arrives. Until then, stay tuned . . . but fingers crossed!