Rhinestone Earbud-Inspired Necklace
Pave Headphones Necklace: Totally Geeky or Geek Chic?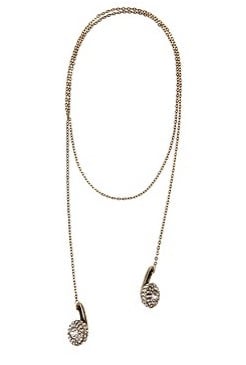 From my favorite funky tech product destination Urban Outfitters comes this necklace. Made of metal and acrylic, the Pave Headphones Necklace ($24) resembles a pair of rhinestone-encrusted earbuds hanging from your neck.
It's not the newest jewelry concept, and when I asked a couple of years ago, most of you loved 'em. I think this necklace is adorable, and a great (and inexpensive!) gift for any music-loving girl in your life. Though they may look slightly out of place if you're listening to music through actual earbuds while wearing it.
What do you think of this necklace, geek or chic?